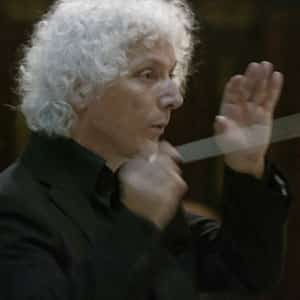 Andrea
Riderelli
Adjunct Professor
Department:
Arts and Humanities
Fields of interest:
MUSIC PERFORMANCE, MUSIC THEORY, MUSICAL COMPOSITION
Bio
Andrea Riderelli è nato a Roma nel 1961.
Ha compiuto gli studi musicali di Canto Gregoriano, Composizione e Direzione Polifonica diplomandosi nel 1992 col titolo di Magister in Canto Gregoriano conseguito con "Magna cum laude" presso il Pontificio Istituto di Musica Sacra a Roma sotto la guida di Bonifacio Baroffio (Canto Gregoriano), di Vieri Tosatti (Composizione) e di Domenico Bartolucci (Direzione Polifonica). Ha successivamente studiato Direzione d'Orchestra prima con Nicola Samale (Bisceglie 1989) continuando poi con Severino Zannerini (Trieste 1989), Hans Priem-Bergrath, Ferenc Nagy (Roma 1989) e con Erwin Acel (Oradea 1989, Roma 1990 – Borsa di studio AMOR), per perfezionarsi infine con Ludovic Bacs all'Università di Musica di Bucarest (Bucarest 1990-1993). Sempre presso l'Università di Musica di Bucarest ha frequentato la Specializzazione Universitaria in Composizione con Nicolae Coman, in Contrappunto e Semiotica Musicale con Dinu Ciocan e Lettura della Partitura con Iosif Csire.
E' stato tra i membri fondatori del gruppo vocale "Melos Antiquum" specializzato nel repertorio liturgico gregoriano e ambrosiano ed è stato membro del gruppo "Kantores 88" guidato da Bonifacio Baroffio.
Nel 2004 fonda, insieme alla clavicembalista Cipriana Smarandescu, l'ensemble aliusmodum che si specializza principalmente nel repertorio barocco, mentre nel 2008 fonda l'ensemble altrerisonanze con l'intento di dare voce a un particolare repertorio del Novecento e del XXI Secolo. Su invito dell'Associazione "Monumenta Musices" ha trascritto ed elaborato il "Magnificat" in Re Magg. Per Soli, Coro, Orchestra e Continuo di Lorenzo Baini eseguito poi a Rieti e a Roma (1989).
Sue composizioni sono state presentate alla RAI Radio Televisione Italiana (1987, 1988, 1992), mentre il 2 dicembre 1990 a Roma, per il ciclo "Salotti Musicali 1990" tenutosi a Palazzo Barberini, è stato presentato in prima esecuzione assoluta "Klage" su testo di Georg Trakl. Nel 1991 è stato invitato a partecipare in veste di compositore al Primo Festival Internazionale di Musica Nuova svoltosi a Chisinau (Repubblica Moldova) dove è stato interpretato "Ali", un ciclo di liriche per soprano e pianoforte su testi propri.
Ha svolto la sua prima parte d'attività direttoriale in Romania dove ha diretto concerti in tutte le sue più importanti filarmoniche. Tra gli atri, meritano senz'altro menzione i concerti svolti presso la Radio Diffusione Rumena di Bucarest e la Filarmonica "George Enescu" di Bucarest dove – tra le altre proposte musicali - sono state presentate in prima assoluta nazionale opere di compositori contemporanei e del novecento. Di gusti piuttosto lontani dal costume del proprio paese e molto più attratto dalla cultura germanica, come compositore ha prediletto il repertorio liederistico (con due esecuzioni alla RAI di due suoi cicli per voce e pianoforte - Ali [1987] e Fünf Neue Lieder [1990]) e come direttore quello barocco (Bach in primis), classico (Beethoven) e post-romantico (da Brahms - con le ultime tre sinfonie e Ein Deutches Requiem - a Richard Strauss - Tod und Verklärung e Metamorphosen - attraverso Wagner - Wesendonk Lieder, Siegfried Idyll e Tristan und Isolde - e Mahler - Kindertoten Lieder, Adagietto dalla Quinta Sinfonia).
Da anni è attivo in campo didattico-musicale specializzandosi in metodologie di approccio alla musica correlate direttamente all'esperienza di base dello studente – dalla guida all'ascolto consapevole, all'apprendimento degli elementi costitutivi del linguaggio musicale applicato alla creazione estemporanea, oltre alle più classiche tematiche teoriche e pratiche quali solfeggio, armonia e composizione, pianoforte e musica d'insieme. Nel 2009-2010 ha tenuto il seminario "Musica ed emozione – Il linguaggio sonoro nel cinema" presso la NUCT Scuola Internazionale Cinema e Televisione a Cinecittà (Roma).
Dal 2004 ha intrapreso parallelamente la professione di Sound Engineer realizzando numerose registrazioni live di concerti in ambito classico. Nel 2008 realizza interamente per la aliusmodum records il Compact Disc "j.s. bach: invenzioni, sinfonie e sei piccoli preludi" della clavicembalista Cipriana Smarandescu che riscuote un'ottima accoglienza dalla critica specializzata sia per l'aspetto artistico che per quello tecnico. Nel 2009 collabora attivamente alla realizzazione del disco "jòmene e jòmene" del cantautore Luca De Nuzzo edito dalla CONTROVERSI e per il quale effettua lavoro di editing, tuning, montaggio e strumentazione MIDI.