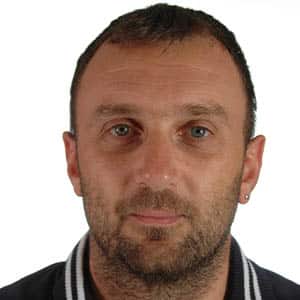 Alessandro
Sdrigotti
Professor
Department:
Media Engineering
Fields of interest:
AUDIO ENGINEERING, BROADCAST AUDIO
Bio
Diplomatosi con il massimo dei voti presso il Conservatorio di Udine "J Tomadini", ha successivamente conseguito un diploma come tecnico del suono.
Ha al suo attivo numerose esperienze in diversi settori dell'audio professionale, specializzandosi negli ultimi anni nelle applicazioni riguardanti la musica classica ed il broadcast.
Nell'ambito televisivo ha lavorato per moltissimi programmi nazionali ed internazionali, sia di sport che musicali, collaborando con Network italiani ed esteri: RAI, Mediaset, SKY, LA7, CNBC, Eurosport, TV2000, MTV, OBS, Telecinco, Antena3, Sky Deutschland, RSI, SuperTennis.
Ha lavorato in qualità di ingegnere del suono per le ultime 4 edizioni olimpiche : Londra 2012, Sochi, 2014, Rio 2016, PyeonChang 2018.
Dal 2017 collabora stabilmente con la rivista italiana Audiofader, pubblicando articoli tecnici riguardanti le applicazioni audio per il broadcast. E' membro fondatore di INAB (International Net of Audio Broadcast ) all'interno del quale si studiano e si sviluppano gli argomenti più importanti del settore audio per il broadcast attraverso condivisione di esperienze, documenti, tavole rotonde.
È invitato da broadcaster nazionali, tra cui recentemente RSI, a tenere seminari e workshop riguardanti l'uso dell'audio immersivo nel settore radio-televisivo.
Moltissime le collaborazioni per eventi televisivi registrati ed in diretta fra cui : MTV European AWARDS Belfast 2011, X Factor 2011, Campionato italiano di calcio Stereo e 5.1, Confederation Cup Sud Africa 2009, VNL European final league, WTP Tennis, SKY Classica live in Arena di Verona, Festival del cinema di Venezia, X Factor 5, Champions League, Europa League, UEFA Nations League, Ferrari Challenge European Tour.
In qualità di fonico e direttore di registrazione, da segnalare le numerose attività nella produzione, registrazione, mixaggio ed editing di molteplici cd e dvd di musica classica, pubblicati per etichette discografiche nazionali ed internazionali : Decca, Naxos, RaiTrade ArthausMusik, Gramola, SoloVoce.
Esperienze importanti anche come fonico per il rinforzo sonoro di concerti di musica classica fra cui citiamo : Roberto Benigni and Claudio Abbado live concert Pierino e il lupo. Ravenna Festival M° Muti concerto di Nairobi (Kenya) e Memorial nel Centenario della 1 guerra Mondiale presso Redipuglia.