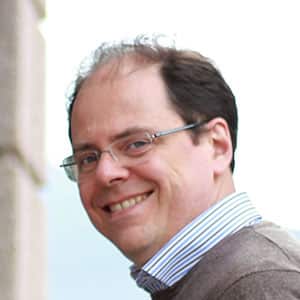 Roberto
Magalotti
Professor
Department:
Mathematics, Physics and Computer Science
Fields of interest:
ELECTROACOUSTICS, LOUDSPEAKERS
Bio
EN
Roberto Magalotti graduated in Physics summa cum laude at the University of Bologna (Italy) in 1994, with a thesis on the physical modelling of musical instruments.
Then he joined Generalmusic (Italy) as a designer of professional loudspeaker systems, specializing in crossover network optimization, loudspeaker horn design and testing, and plane wave tube measurements.
In 2001 he joined B&C Speakers (Italy), a leading company in the design and manufacturing of professional loudspeaker drivers, where he became Head of Research in 2008.
In 2019 he joined Bowers & Wilkins (UK) as Director of Acoustic Research.
His interests include modelling, measurement and simulation of the nonlinear behaviour of loudspeaker drivers, optimization of magnetic assemblies, application of Finite Elements Analysis to loudspeaker design, low frequency room acoustics.
He teaches courses on loudspeaker technology at CESMA (Switzerland) and at Le Mans Université (France).
He is a Full Member of the Audio Engineering Society since 1998 and has served as Secretary of the Italian Section from 2005 to 2007.
IT
Roberto Magalotti si è laureato in Fisica con lode all'Università di Bologna nel 1994, con una tesi sulla modellazione fisica degli strumenti musicali. In seguito, ha lavorato come progettista di sistemi di altoparlanti professionali presso Generalmusic (Italia), approfondendo l'ottimizzazione delle reti di crossover, la progettazione e verifica delle trombe per altoparlanti e le misure in tubo a onde piane.
Nel 2001 è passato a B&C Speakers (Italia), azienda leader nella progettazione e produzione di altoparlanti professionali, dove è diventato Responsabile della Ricerca nel 2008.
Nel 2019 è entrato in Bowers & Wilkins (UK) come Direttore della Ricerca in Acustica.
I suoi interessi includono la modellazione, misura e simulazione del comportamento nonlineare degli altoparlanti, l'ottimizzazione dei complessi magnetici, l'applicazione dell'analisi agli elementi finiti alla progettazione elettroacustica, l'acustica in bassa frequenza degli ambienti chiusi.
Insegna tecnologia degli altoparlanti presso il CESMA (Svizzera) e presso l'Università di Le Mans (Francia).
È membro effettivo dell'Audio Engineering Society dal 1998 ed è stato Segretario della sezione italiana dal 2005 al 2007.